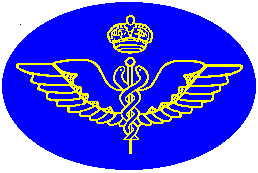 Royal Aero Club Awards & Trophies for 2008
The Royal Aero Club Annual Awards Ceremony
was held at
The RAF Club, 183, Piccadilly, London
on Tuesday, 21st April 2009
The awards were presented by
HRH Prince Michael of Kent, GCVO
---
Pictures of the event may be ordered from
the official photographer.
Further information may be obtained
from the RAeC General Secretary:
Mrs Diana King,
Radford Barn, Radford Semele,
Leamington Spa, Warwickshire, CV31 1UT
Tel: 01926-332713, Fax: 01926-335206
E-mail: secretary@royalaeroclub.org
---
Thanks to:
Breitling Swiss Chronographs
HR Jennings & Co Ltd, Aircraft & General Insurance Brokers
British Airways PLC
for their generous support of the event.
---
The awards for 2008 are:
THE BRITANNIA TROPHY
Awarded to David Hempleman-Adams & Jonathan Mason
David Hempleman-Adams and Jonathan Mason won the Gordon Bennett Race for gas balloons in October 2008, having taken second place in the preceding event. This race is the most prestigious in ballooning and this was the first British victory in over 100 years. The 2008 race took place in the USA. They started from Albuquerque in New Mexico and struggled with unfavourable weather, including a snowstorm. Eventually they made a night landing near Milwaukee, having been airborne for 74 hours and covering 1768 km.
THE PRINCE OF WALES CUP
Awarded to Team Bodyflight Storm.
Team Bodyflight Storm is the British women's four-way formation skydiving team. Its members are Hannah Betts, Claire Scott, Sarah Smith, and Kate Stephens with photographer Gary Wainwright. They undertook 18 months of intensive training including over 1500 team jumps. They won the British National Championships and then went on to the 2008 World Parachute Championships. Here the team achieved a best-ever British performance. They won the Championships, beating the USA and France, and also achieved a new world best score for this event.
GOLD MEDAL OF THE ROYAL AERO CLUB
Awarded to Claire Scott.
Claire Scott is the highest-achieving female skydiving champion the sport has ever known. She has won the World Championships five times in ten years as a member of the British Women's 4-way sky-diving teams V-max, Airkix and Bodyflight Storm. As a member of these teams, she has previously been awarded the RAeC Prince of Wales Cup twice and an RAeC Gold Medal in 2003, as well as several other individual awards. Claire is an instructor and coach, who is passing on her experience and skills to a new generation of top-level British skydivers.
SILVER MEDAL OF THE ROYAL AERO CLUB
Awarded to Alan Lovejoy.
Alan Lovejoy has given over 30 years and many thousands of hours voluntary service to the Popular Flying Association and Light Aircraft Association, and he has also been involved in vintage aircraft restoration. While working for Dan-Air, he helped with conserving two classic airliners which are now preserved at Duxford. He has also been involved in restoring some war-birds and vintage light aircraft, including a Piper Cub which he still owns. He was a long-serving Co-ordinator of the PFA Andover Strut and helped to establish the airfield at Popham. He served on the PFA Executive Committee for six years. Alan's biggest contribution has been many years on the management team of the annual PFA National Rally, taking responsibility for a variety of tasks associated with two major work areas, catering and camping. This became the biggest such event outside the USA, attended by up to 1,800 aircraft and 13,000 people.
Awarded to Richard Rawes.
Richard Rawes has been FAI World Champion three times for single-seat flexwing microlights. He started flying with the Air Training Corps, who awarded him a scholarship leading to a PPL and he became an officer in the RAF. He started flying microlights in 1986, and in 1993 bought the Chaser S which he still flies in competitions. Richard has won the British Microlight Championships eleven times, and has been in the British team continuously since 1991. He has won several international medals, including Gold in two European Championships and three World Championships.
Awarded to Howard Torode.
Howard Torode has given many years of service to the British Gliding Association on technical issues, as well as being an active glider pilot and owner. He is Chairman of the BGA Technical Committee and UK representative on the International Scientific and Technical Organisation for Gliding (OSTIV). His technical knowledge and practical experience continues to play an important role in negotiating the flood of new regulation generated by EASA, and to fending off some of their more disproportionate and expensive proposals. His work is of great benefit to all those who operate sport aircraft and particularly gliders.
BRONZE MEDAL OF THE ROYAL AERO CLUB
Awarded to Alan Chalkley.
Alan Chalkley flew with the RAF, and then from 1955 with BOAC and British Airways, starting as a pilot on Stratocruisers and retiring in 1989 as a Training Captain and examiner on B747's. He also flew for fun. He flew gliders in the 1950's and then vintage light aircraft, of which he has owned two - a Piper Cub which he purchased in 1962 and still flies, and a Comper Swift. He was a founder member of the Vintage Aircraft Club in 1964. He is an engineering inspector with the Light Aircraft Association and has been the National Council representative for North Wales Strut since 1989. He is the longest-serving contributor to their magazine - starting in 1972 under the pseudonym of John Beeswax, he is still supplying a regular series of articles on the pleasures of grass-roots flying, in classic aircraft from farm-strips.
Awarded to David Clarkson.
Dave Clarkson has made a major contribution to several disciplines of model flying. In the 1970s he represented the UK at team-racing, and later managed the team. He was a leader in adopting new engine options and wrote many magazine articles to promote new ideas. He dominated the Goodyear class competitions for several years. About ten years ago, he changed disciplines to free flight power and soon brought his abilities of analysis and novelty to bear. He served on the Free Flight Technical Committee for six years and as its representative on the BMFA Council. He did much to ensure that the current competition rules were based on practicality.
Awarded to Bill Draper.
Bill Draper was a founder member of the Nottingham Model Aircraft Club. He has served continuously on the Committee since 1965, including as Chairman. He has also served on the Area Committee for much of that time and has organised flying competitions at Wymeswold for many years He served on the Control line technical committee and managed aerobatic competitions, including the Nationals. He has represented Britain 30 times at World and European control line aerobatic competitions, including two team and one individual Gold Medals, and still this year, aged 73, he is first reserve for the World team. He is involved with teaching model flying for young people for the Duke of Edinburgh's Award.
Awarded to Steve Slade.
Steve Slade was for many years a regular competitor in the British Microlight Nationals and a member of the British Team. Recently he has taken to setting records. In 2002 it was the number of circuits in an hour, and in 2008 it was the number of different airfields visited in a day. He planned several different routes depending on weather, occasionally returning to his base at Chipping Sodbury to refuel. The airfields visited were most of those in the West Midlands, Borders and Avon areas, ranging from farm strips to airports like Lyneham, Brize Norton and Kemble, and he achieved 114 in a day. This is particularly noteworthy because Steve is a paraplegic.
Awarded to Freefly Team Volairkix.
Freefly Team Volairkix consists of Andy Newell, Adam Mattacola and Mike Carpenter. After much hard work and training, they achieved the Bronze Medal in Freefly at the 2008 World Parachute Championships at Mauberge. They were the first British team to gain a podium place in this artistic skydiving event. They are all now giving coaching at BPA training events across the UK.
ROYAL AERO CLUB DIPLOMA
Awarded to Marilyn Hood.
Marilyn Hood has served for eight years as volunteer Chairman of the Communications and Marketing Committee of the British Gliding Association. She has led a team of volunteers and part-time staff in delivering a successful strategy, which has raised the profile of Gliding and increased the flow of people taking up the sport. She has developed the BGA website and introduced e-mail newsletters to members, also organised marketing seminars for clubs. She led the development of a gliding simulator for training which has been exceptionally successful. She crews for her husband in national competitions, while both her sons are medal winners in international competitions.
CERTIFICATE OF MERIT OF THE ROYAL AERO CLUB
Awarded to Phil Curtis.
Phil Curtis co-ordinated and took part in the first ever live television advert featuring a live sky-dive, in May 2008. 16 parachutists plus two camera crew took part in the jump, spelling out HONDA. Though a back-up had been filmed in advance, the live jump was successfully broadcast, timed exactly to fit into a scheduled ad-break on Channel 4. This groundbreaking event has led to much public interest in parachuting, as well as the car being advertised, and triggered the International Parachuting Commission to redouble its efforts to attract televising of parachute competitions.
Awarded to Chris Dunkley.
Chris Dunkley has been flying balloons for more than 25 years. He has worked as a commercial balloon pilot and is an instructor and examiner, and in 1990 was appointed as a balloon Inspector. His main contribution has been to the Technical Committee of the British Balloon and Airship Club, including ten years as its Chairman. He has been responsible for liaising with manufacturers and writing a large number of technical documents for BBAC. These have ranged from guides for Inspectors to information about taking balloons and gas cylinders abroad on ferries. He is noted for expressing technical requirements in terms which are readily understood by ordinary pilots. He has spent a lot of time attending meetings and liaising with CAA and EASA, and deciphering their proposals on behalf of BBAC.
Awarded to Bob King.
Bob King started parachuting in 1963, and was a founder-member of the Duck End Farm parachute club in 1969. This club came to dominate the competition scene in Britain. Bob went on to attend 36 British Championships and 20 World Championships in Style and Accuracy, initially as a Competitor winning many medals including six Golds, then becoming British team manager. Eventually he became a Judge and ultimately Chief Judge at the World Championships.
Awarded to Wyn Morgan.
Wyn Morgan has been the Technical Officer of the British Balloon and Airship Club for 25 years. He was responsible for liaising with the CAA to develop the system of delegated airworthiness certification which has served well for many years. His office undertook type-certification work and issue of Certificates of Airworthiness on behalf of the CAA, including administering balloons used for public transport. Though many of the systems he put in place will continue, the advent of EASA regulation decided him to retire.
Awarded to Deane Smith.
Deane "Smudge" Smith was taking part in a canopy parachuting competition in Portugal in August 2008. He saw another competitor hit the surface of a lake at high speed, and rushed to assist. He provided first aid on the spot and took command of organising the recovery of the casualty. He directed others to guide the ambulance and find a suitable landing ground for the medevac helicopter, all the time continuing first aid, and he continued to assist when professional help arrived. Unfortunately the casualty died an hour later. Deane spent time consoling friends and fellow team members. The medical staff and officials expressed their gratitude and praise for Deane's response to the event and the exceptional leadership he had shown.
Awarded to Lindsey Smith.
Lindsey Smith served as an officer with the Army Air Corps and then became Curator of the AAC Museum at Middle Wallop. For ten years he has acted as liaison on behalf of the British Model Flying Association in the use of Army training areas on Salisbury Plain and on Middle Wallop Airfield. This has allowed the regular use of these facilities for trimming free-flight models and for competitions.
NORTON-GRIFFITHS CHALLENGE TROPHY
This is a new award: Intended to recognise adventurous endeavours, this trophy is awarded to aviators undertaking outstanding feats of courage, tenacity and imagination unrelated to traditional sporting events.
Awarded to Miles Hilton-Barber, Richard Meredith-Hardy & Brian Milton.
Miles Hilton-Barber is a blind pilot who flew from England to Australia in a Pegasus weight-shift microlight. He spent four years planning the flight and arranging sponsorship from the Standard-Chartered Bank "Seeing is Believing" charity scheme. At short notice, his planned sighted companion withdrew, and so he contacted Brian Milton, who had been the first man to fly a microlight round the world, and Richard Meredith-Hardy who had flown a microlight over Everest. Brian agreed to accompany him to Cyprus and then Richard would take over to complete the journey. Miles was always keen to take control, guided by an audio system, whenever circumstances allowed. They set out from Biggin Hill and fought through bad weather, long water crossings and climbing to over 13,000 feet across mountains. But they kept to a tight schedule and eventually successfully arrived in Sydney.
THE SALOMONS TROPHY
Awarded to Garth Greyling.
Garth Greyling was piloting a Turbo-Islander at the Army Parachute Championships in Germany. After a successful team exit, the jump-master also exited, leaving Garth alone in the aircraft. Unfortunately the jump-master became entangled in the static line and was trapped trailing from the aircraft. After being alerted to the problem, Garth climbed the aircraft back to a safe height and worked out that he would have to trust the trim to keep the aircraft flying level and leave his seat to cut the static line free. After one dummy run over the DZ, he accomplished this, being out of his seat for several minutes. The jump-master was then able to free himself from the line and use his reserve chute to land safely. Garth's exemplary airmanship saved his life.
THE PRESIDENT'S ROLEX TROPHY
Awarded to Aislinn & Eilidh Price.
Aislinn and Eilidh Price are sisters aged 14 and 17. They have been helping with the organisation of Model-flying combat competitions for over three years and have become renowned for their skill at scoring the competitions. They have worked at several BMFA regional competitions and the last three British Nationals. Their reputation resulted in invitations to be scorers at the 2007 European Championships at Belgrade, and the 2008 World Cup and World Championships in France, which involved eight days work.
COWBURN & KAY - OLD AND BOLD TROPHY
Awarded to Roger Dickson.
Roger Dickson is 82. He made his first flight with Alan Cobham's Circus in 1932. He has over 8,000 hours in aircraft and gliders in his logbooks. As an exhibition organiser, he has attended every SBAC Air Show, starting at Radlett in 1947. A road accident in 1995 resulted in amputation of his right forearm, but he has continued flying with a special prosthetic. He flies his CAP-10, including aerobatics, from Gamston and also maintains a current Instrument Rating. He is actively involved with the British Disabled Pilots Association.
CERTIFICATE OF APPRECIATION OF THE ROYAL AERO CLUB
Awarded to Dick Richardson.
Dick Richardson served with the RAF as an engineer, working on aircraft ranging from Vulcans to the BBMF Lancaster, for which he was Chief Engineer. He went on to manage two major collections of historic aircraft at Strathallan and Shuttleworth. He was then appointed to the collection being gathered by Charles Church at Popham, but this was unfortunately curtailed in 1989 by the death of Mr. Church. Dick stayed on at Popham as Airfield Operations Manager. He has developed it into one of the most popular and friendly light aircraft airfields in Britain, including a programme of themed fly-ins throughout the summer. Long-established highlights include the big annual Microlight Trade Fair, and the Starlight Foundation Charity Air-day where hundreds of terminally ill children have been given rides in a variety of aircraft.
COMPANION OF THE ROYAL AERO CLUB
Awarded to Richard Winter.
Richard Winter is Executive Vice-President of the InterContinental Hotels Group. His personal intervention enabled the Royal Aero Club Trust to acquire two important items of aviation memorabilia. In 2003, he was instrumental in obtaining and presenting to the Trust the only existing portrait of Frank Hedges Butler who had been a founder-member of the Aero Club. This painting has now been loaned to the Royal Automobile Club for display, as Butler had also been their first Treasurer. Then in 2007 his company presented the Trust with the First Aero Club Cup, which had been won in July 1906 by Frank Hedges Butler for the first official balloon race in Britain, and is possibly the world's oldest aviation trophy.
ANN WELCH MEMORIAL AWARD
Awarded to Les Merritt.
Les Merritt started gliding in 1971 with the Southdown Gliding Club, at Firle and then Parham. He gained a silver badge and advanced rapidly through the ratings to become their CFI. He was also instrumental in achieving the club's M3 engineering licence. His job moved and he joined the Buckminster Gliding Club at Saltby, and in 1997 he became its full-time CFI and Manager. Under his leadership, the club's facilities have expanded greatly. He has qualified as a motor-glider instructor and examiner, and a tug-pilot examiner. His enthusiasm and knowledge is allied to an ability to encourage pilots at all levels.
---
Fédération Aéronautique Internationale -
UK Awards for 2007
These awards were presented to the UK delegation at the FAI General Conference in Autumn 2008 and are re-presented here.
FAI - MONTGOLFIER DIPLOMA (FOR GAS BALLOONS)
Awarded to David Hempleman-Adams.
David Hempleman-Adams flew across the Atlantic in a small gas balloon in July 2007. He took off from St Johns, Newfoundland and eventually, four days later, landed near Dijon in France. He flew in a balloon of only 1000 cu.m. This is by far the smallest balloon that has ever been used for an Atlantic crossing. David made the flight solo. The flight achieved World Records of 4227 km distance and 89 hours 20 minutes duration in class AA-6, also breaking the records for the next three larger classes.
FAI - ANTONOV MODELLING DIPLOMA (FOR TECHNICAL INNOVATION)
Awarded to Paul Beard.
Paul Beard was responsible for developing the 2.4 GHz Spektrum radio control system for aero-modellers. The project arose as a spin-off from his work in 1995 for a radio system for remote checking of hire-cars. It took seven years of work and investment to achieve a viable prototype. The system was then developed in partnership with Horizon Hobby in the USA, initially for radio-controlled model cars and boats, and then as a 7-channel system for aero-modellers. It has provided a major improvement in reliability and safety over earlier systems and has been adopted world-wide.
FAI - LILIENTHAL DIPLOMA
Awarded to Derek Piggott.
Derek Piggott has been an inspiration to glider pilots world-wide for over 55 years. He has made a major contribution to the development of gliding instruction. He has written several books and articles about gliding and made international lecture tours. He has evaluated and written handling notes for over 200 models of glider. He has flown a wide variety of one-offs, including the Cayley replica and the SUMPAC man-powered aircraft. He has also flown WW-1 replica aircraft in several cinema films. He has set a number of gliding records and won several Regional Competitions and the National Aerobatic Championships. In his mid-80's, he is still taking part in competitions in Britain and America, and writing and talking about gliding.
---
OTHER AWARDS
A number of major awards from member associations were also presented.
---